Wild Rice with Cranberry and Orange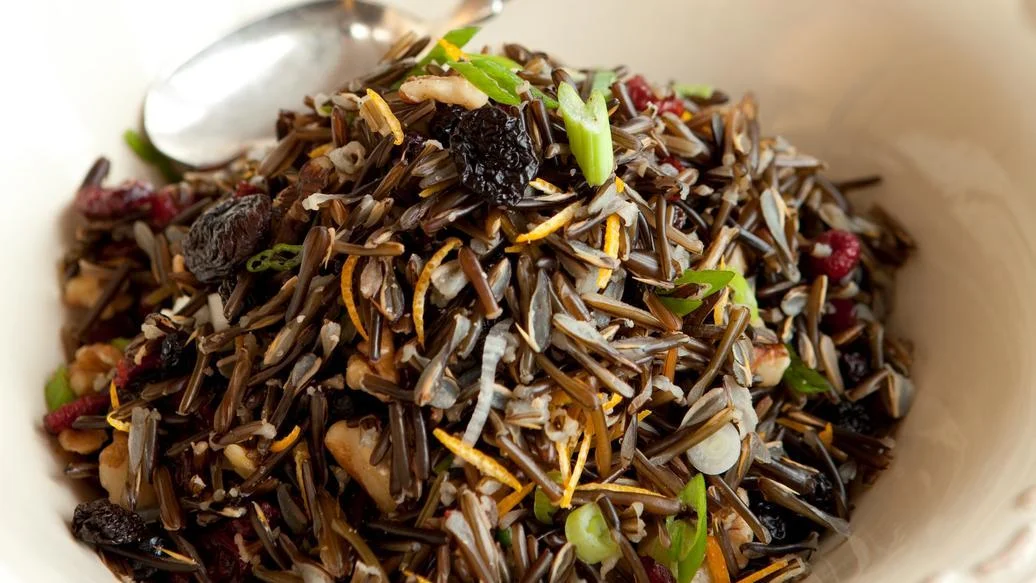 40 min
6 servings
$2.45/serving
Wild rice is a good source of complex carbohydrates (the kind that keep you feeling fuller for longer) and vitamin B (notably niacin), important for heart health.
Perfectly Balance Your Plate
Serve with grilled steak and steamed veggies.
Ingredients
1 cup wild rice
5 cups water
1⁄4 cup olive oil
1⁄3 cup orange juice
1 tsp mint
Sea Salt, to taste
Black Pepper, to taste
1 cup cranberries
1⁄2 cup pecan halves
1 orange, zested
4 green onions, thinly sliced
Preparation
Combine wild rice with water in Multipurpose Pot - 8 cup. Bring to a boil, reduce temperature to a gentle simmer for 45 minutes. Check after 30 minutes for tenderness. Drain rice.
In a small bowl, whisk together olive oil, orange juice, Rosemary Garlic, mint, Salt and Pepper.
Add rice, cranberries, pecans, orange zest and sliced green onions. Stir gently to combine and serve hot, cold or at room temperature.
Nutritional Information
Per serving: Calories 280, Fat 9 g (Saturated 1 g, Trans 0 g), Cholesterol 0 mg, Sodium 15 mg, Carbohydrate 47 g (Fibre 4 g, Sugars 21 g), Protein 2 g.