Luscious Lemon Meringue Tarts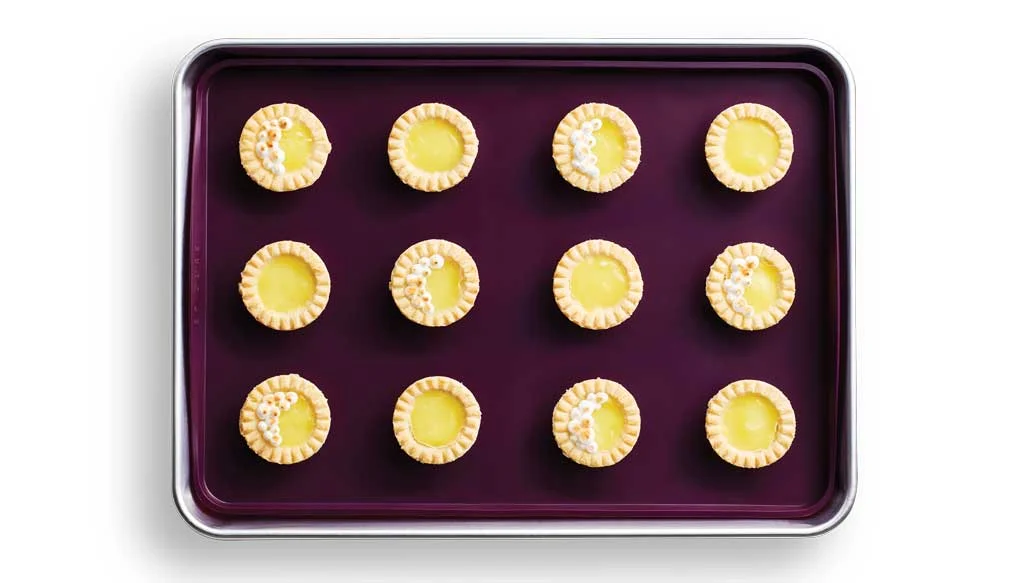 1 hr & 30 min (includes 1 hour chill time)
12 tarts
$0.98/serving
Ingredients
LEMON CURD
3 eggs
1⁄2 cup water
1 tbsp butter, optional
12 frozen tart shells
MERINGUE
2 egg whites, room temperature
1⁄8 tsp cream of tartar
1⁄4 cup white granulated sugar
Preparation
In 4-Cup Prep Bowl, whisk eggs until foamy. Add mix and water; whisk until well combined. 
Microwave, uncovered, on high for 2 min, until thickened, whisking halfway through and at the end. If the curd has not thickened after 2 min, cook for additional 30 sec intervals, whisking after each, until desired thickness is achieved. 
Whisk in butter, if desired. Cover; refrigerate for at least 1 hour, or until cooled.  
Preheat oven to 375° F.  
Place tart shells on Sheet Pan. Bake for 10–12 min, or until golden. 
Remove tarts from foil cups. Let cool.  
While tarts are cooling, prepare meringue. 
Using an electric mixer, beat egg whites on medium speed until frothy. Add cream of tartar and continue beating until fluffy. Gradually beat in sugar. Beat on high until stiff, glossy peaks form, 3–4 min.  
Once tarts are cooled, spoon in lemon curd, about 2 tbsp per tart.  
Using a piping bag or spoon, top each tart with meringue. You can cover the whole tart or pipe small dots into a decorative pattern.  
Bake at 425° F for 4–5 min or until meringue is golden. Let cool before serving.
Nutritional Information
Per serving (1 tart): Calories 190, Fat 7 g (Saturated 2 g, Trans 0 g), Cholesterol 45 mg, Sodium 115 mg, Carbohydrate 29 g (Fibre 1 g, Sugars 17 g), Protein 4 g.