Luscious Lemon Ice Cream Cake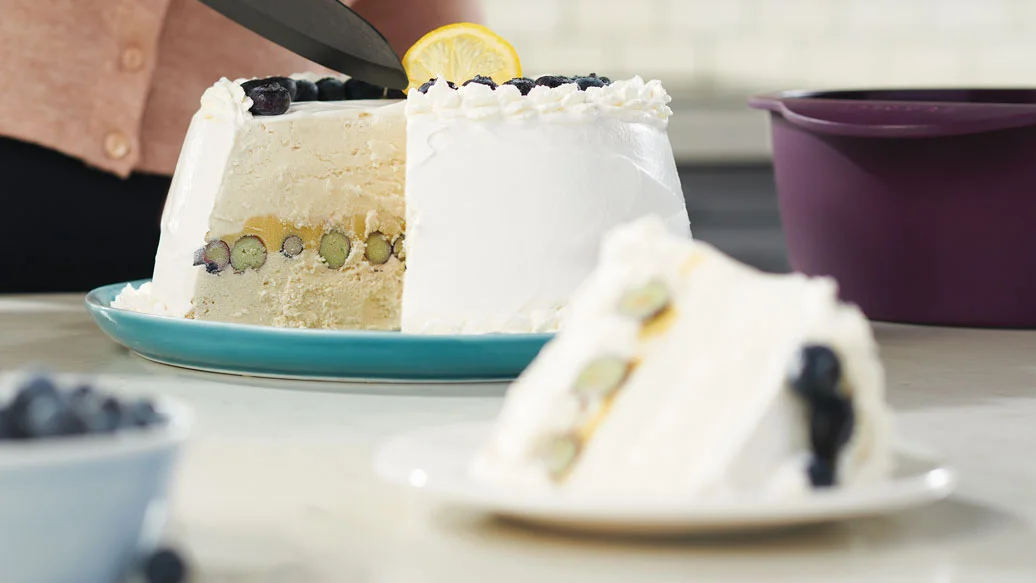 7 hrs (includes 6 hrs freeze time)
16 servings
$1.04/serving
Streamline prep—make the Luscious Lemon Curd the day before assembling the cake. This way it will be chilled and ready to use! This cake is perfect for summer celebrations.
Ingredients
FILLING
1 cup fresh or frozen blueberries
ICE CREAM LAYERS
2 containers (1.65 L each) vanilla ice cream or frozen yogurt
TOPPING
2 cups whipping cream
1 cup icing sugar
Toppings (optional): fresh blueberries, lemon slices
Preparation
Set 1 container ice cream on the counter to soften.
Line Round Steamer with plastic wrap—you'll need 2 large pieces so it covers the bottom and comes up and over the side.
Measure out 2 tbsp lemon curd. Place in the fridge. This will be used later for the topping.
Scoop softened ice cream into steamer; spread into an even layer. Top with curd; spread into an even layer. Sprinkle blueberries on top into an even layer. Freeze for 2 hrs or until firm.
Meanwhile, set second ice cream container out on the counter to soften. Once the first layer is firm, spoon remaining ice cream on top; spread into an even layer. Loosely cover with the overhanging plastic wrap. Gently tap steamer on counter a few times to help pack the layers. Freeze until very firm, at least 5 hrs or overnight.
For the topping, pour cream into a chilled bowl. Using an electric mixer, beat just until soft peaks start to form. Gradually beat in icing sugar until stiff peaks form when beaters are lifted. Gently fold in reserved lemon curd.
To decorate the cake, remove steamer from freezer and unwrap plastic; let the plastic wrap overhang on the outside of the steamer. Place a large plate on top of the steamer; carefully invert cake onto plate. Remove and discard plastic wrap.
Spread whipped cream all over top and sides of cake. If you wish, save some of the whipped cream and put in a piping bag; pipe a border around top of cake. Add additional toppings, if desired. Cake will keep well frozen up to 3 days before serving.
Nutritional Information
Per serving: Calories 430, Fat 24 g (Saturated 15 g, Trans 0 g), Cholesterol 125 mg, Sodium 120 mg, Carbohydrate 48 g (Fibre 1 g, Sugars 42 g), Protein 6 g.