Greek Pork & Couscous Wraps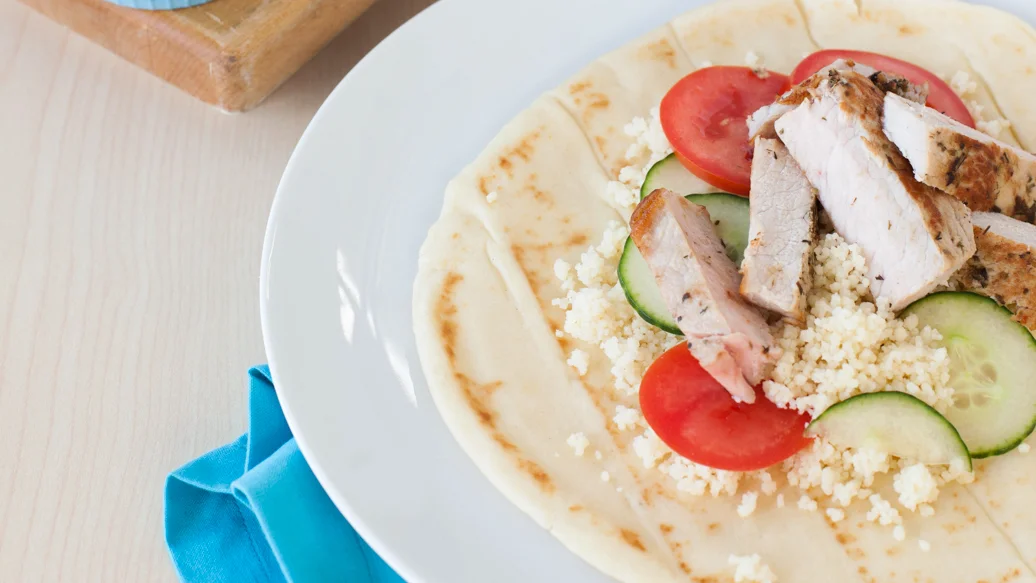 25 min
4 servings
$2.95/serving
Perfectly Balance Your Plate
This is a perfectly balanced plate.
Ingredients
TZATZIKI
1 cup plain Greek yogurt
1⁄2 cup grated cucumber
WRAPS
1 cup uncooked couscous
2 cups boiling water, plus more if needed
2 tbsp olive oil
1⁄2 tsp sea salt
2 medium tomatoes, thinly sliced
1⁄2 medium English cucumber, thinly sliced
4 whole-wheat pitas, warmed
Preparation
In a mixing bowl, using Piano Wire Whisk, whisk Tzatziki ingredients. Store in fridge.
In a heat-safe bowl, stir couscous with boiling water. Cover and let couscous absorb water, approximately 5 minutes. Fluff with a fork, and check couscous is cooked to taste. If needed, add another 1⁄2 cup boiling water, and allow to absorb. Season with oil and Herbed Garlic Sea Salt.
In a heat-safe dish, reheat pork for approximately 10 minutes in a 350° F (175° C) oven, or microwave on medium for 5 minutes.
To assemble, divide and top each pita with couscous, pork, tomatoes, cucumber, and Tzatziki. Roll up or serve open-faced.
Nutritional Information
Per serving: Calories 720, Fat 32 g (Saturated 6 g, Trans 0 g), Cholesterol 50 mg, Sodium 660 mg, Carbohydrate 77 g (Fibre 9 g, Sugars 6 g), Protein 32 g.
Tips
If pitas are full to bursting, you may need a knife and fork!
Gluten-free tip: Swap out couscous for quinoa and gluten-free corn tortillas for pitas.