Sirloin and Mushroom Burgers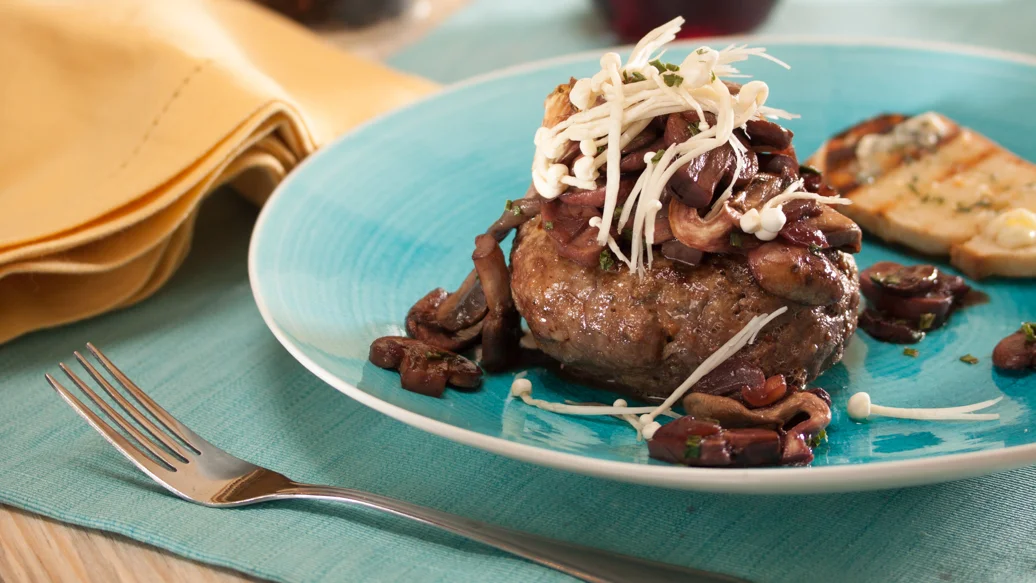 20 min
4 servings
$3.95/serving
Why eat out when you can eat in? Try this delicious, moist burger at your next backyard barbecue to wow family and friends!
Ingredients
1 1⁄2 lbs (680 g) ground sirloin
1⁄4 cup dry breadcrumbs
Topping:
2 tsp butter
8 oz (225 g) sliced mixed mushrooms
1 shallot or 1/2 onion, chopped
1⁄4 cup dry sherry, red wine or orange juice
1 tbsp dry parsley
Preparation
Mix first 3 ingredients together. Wet hands to prevent sticking and form mixture into 6 patties.
Melt butter in frying pan over medium-high heat. Add mushrooms and shallot. Stir-fry for 3–5 minutes, until lightly browned.
Add Brushetta Herbs and sherry. Reduce heat and simmer for 2–4 minutes, until mushrooms are soft. Remove from heat and stir in parsley. Cover and keep warm.
Grill patties on the barbecue over medium-high heat with the lid closed for 5 minutes. Flip patties and continue grilling for an additional 5 minutes.
To serve, place burgers on plates and spoon mushroom sauce overtop.
Nutritional Information
Per serving: Calories 290, Fat 19 g (Saturated 8 g, Trans 0 g), Cholesterol 65 mg, Sodium 230 mg, Carbohydrate 6 g (Fibre 1 g, Sugars 2 g), Protein 25 g.