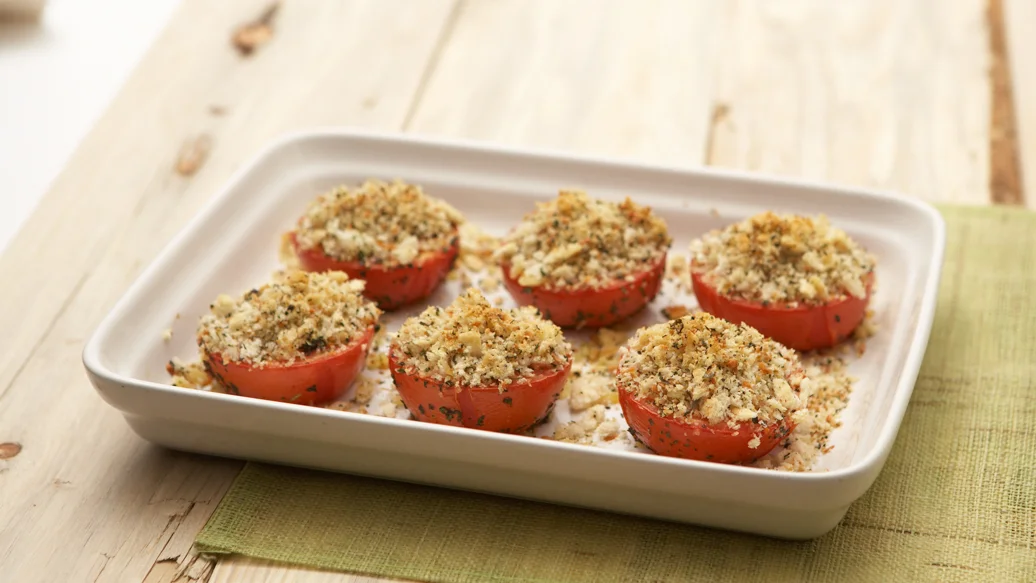 38 min
8 servings
$0.70/serving
A savoury crumble with garden fresh, sun-ripened tomatoes – the perfect side dish. 
Ingredients
4 large tomatoes, halved
1⁄4 cup olive oil, divided
Sea Salt, to taste
Black Pepper, to taste
2 cups fresh, soft breadcrumbs
1 tbsp parsley
2 tbsp grated Parmesan cheese
Preparation
Preheat oven to 400° F (205° C).
Gently toss tomato halves with 2 tbsp oil and sprinkle with Bruschetta Herbs.
Arrange tomatoes, cut-side up, in an oval au gratin dish or a shallow oven-proof dish. Coarsely grind Sea Salt and Black Pepper overtop.
Combine remaining ingredients with remaining oil in a small bowl.
Sprinkle tomatoes with breadcrumb mixture. Bake for 20 minutes, or until topping is golden.
Nutritional Information
Per serving: Calories 110, Fat 8 g (Saturated 1 g, Trans 0 g), Cholesterol 0 mg, Sodium 100 mg, Carbohydrate 8 g (Fibre 1 g, Sugars 2 g), Protein 2 g.