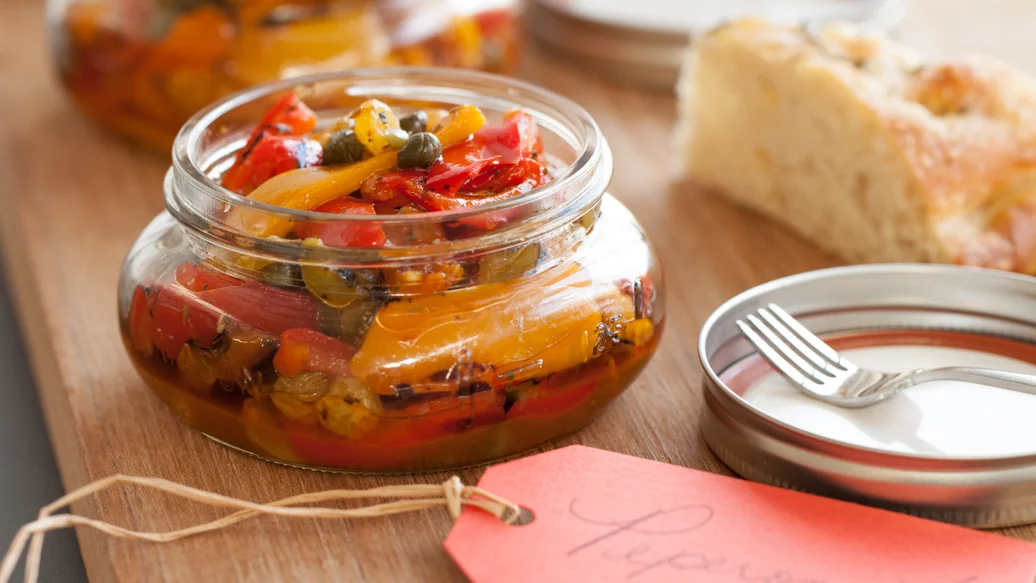 1 hour
4 cups
$0.21/serving
Roasted red peppers with a difference! Serve at room temperature with grilled bread (crostini) or crackers, or pack in glass jars for a beautiful gift.
Ingredients
5 large bell peppers
3 tbsp golden raisins
2 tbsp olive oil
2 large garlic cloves, crushed
2 tbsp capers, optional
1 tbsp wine vinegar, red or white
1 tsp Herbes Provencales
2 pinches Cinco Pepper Blend, or pepper blend of your choice
Sea Salt, coarsely ground, to taste
Preparation
Under a broiler or on a grill, char whole peppers on all sides. Place in a plastic bag and steam for 15–20 minutes.
Meanwhile, place next 7 ingredients in a bowl, stirring to combine.
Peel and seed peppers, then cut into 1⁄2" wide strips.
Gently stir in Cinco Pepper Blend and season with Sea Salt
Serve immediately, or refrigerate for up to 5 days.
Nutritional Information
Per serving: Calories 15, Fat 0 g (Saturated 0 g, Trans 0 g), Cholesterol 0 mg, Sodium 0 mg, Carbohydrate 2 g (Fibre 0 g, Sugars 1 g), Protein 0 g.