Red Wine Peppercorn Sauce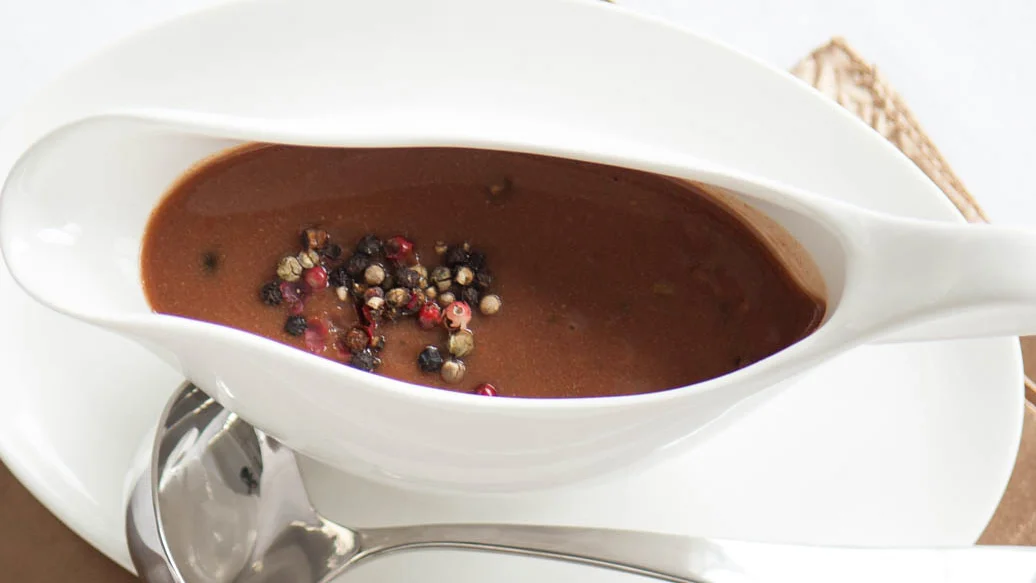 11 - 13 min
12 servings
$0.45/serving
Looking to impress that special someone on your at-home date night? This is the sauce to serve with your favourite cuts of meat, be it a juicy steak, succulent prime rib, or a perfectly roasted leg of lamb.  Just be forewarned, this sauce is so irresistibly delicious, we can almost guarantee you'll be planning a second date...almost!
Ingredients
1 cup dry red wine
1 tsp Black Pepper, lightly crushed
Preparation
Sauce:
In a small saucepan, bring wine, Balsamic Vinaigrette Seasoning, and Black Pepper to a boil. Reduce heat, and simmer until wine is reduced by half, approximately 6–8 minutes.
Strain into Multipurpose Pot - 8 cup or a saucepan, then stir in hot Gravy. Taste, and add more freshly cracked Black Pepper, if you like.
Sandwich Spread:
Using Piano Wire Whisk, whisk 1⁄4 cup prepared Gravy, 1 tsp Balsamic Vinaigrette Dessing Mix, a splash of red wine, and 2 cups light mayonnaise. Generously season with grindings of Black Pepper.
Nutritional Information
Per serving: Calories 25, Fat 0.1 g (Saturated 0 g, Trans 0 g), Cholesterol 0 mg, Sodium 140 mg, Carbohydrate 2 g (Fibre 0 g, Sugars 0 g), Protein 1 g.
Tips
Drizzle over slices of Easy Roasted Beef Tenderloin, or serve in a sauce boat on the side. Also makes a delicious dipper or chilled sandwich spread.
Wary of sauce dripping on the buffet table? Make it a sandwich spread instead – dollop on roast beef slices, or spread on roast beef sandwiches arranged on a platter (try big, soft, sesame-speckled buns or thick slices of crusty artisanal bread).