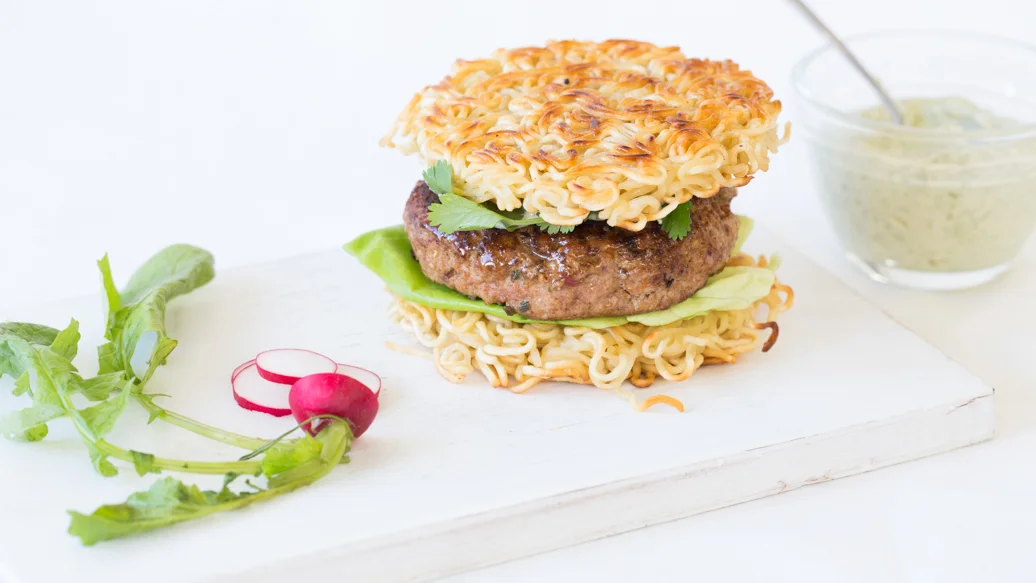 30 min
4 servings
$2.75/serving
We've Epicurized the foodie trend of making "noodle buns" out of ramen noodles. We've thrown out the MSG- and sodium-filled flavour packet and replace it with some of our favourite Asian-inspired Epicure seasonings.
Ingredients
4 pkgs 3 oz (85 g) ramen noodles
3 eggs
1 lb (450 g) ground turkey, lean beef, or chicken
1 - 2 tbsp vegetable oil
Asian-inspired toppings such as cilantro, greens, radishes
Preparation
Mix cooked ramen noodles with egg until well combined.
Divide into eight and press into "buns" in a burger press. Refrigerate 20 minutes or longer until firm.
Meanwhile, combine turkey and Asian Stir-Fry Seasoning. Form into four patties.
Heat oil in a frying pan over medium-high heat. Working in batches, cook noodle "buns" without moving them for 2 minutes, or until golden brown on one side. Flip over and repeat on the other side.
Grill or fry patties over medium-high heat for 4 minutes each side, or until an instant-read thermometer indicates a Food Safe internal temperature of 165° F (74° C).
Assemble ramen burger with your favorite Asian-inspired toppings.
Nutritional Information
Per serving: Calories 540, Fat 16 g (Saturated 4 g, Trans 0 g), Cholesterol 250 mg, Sodium 820 mg, Carbohydrate 66 g (Fibre 1 g, Sugars 1 g), Protein 40 g.