Loaded Taco Shoestring Fries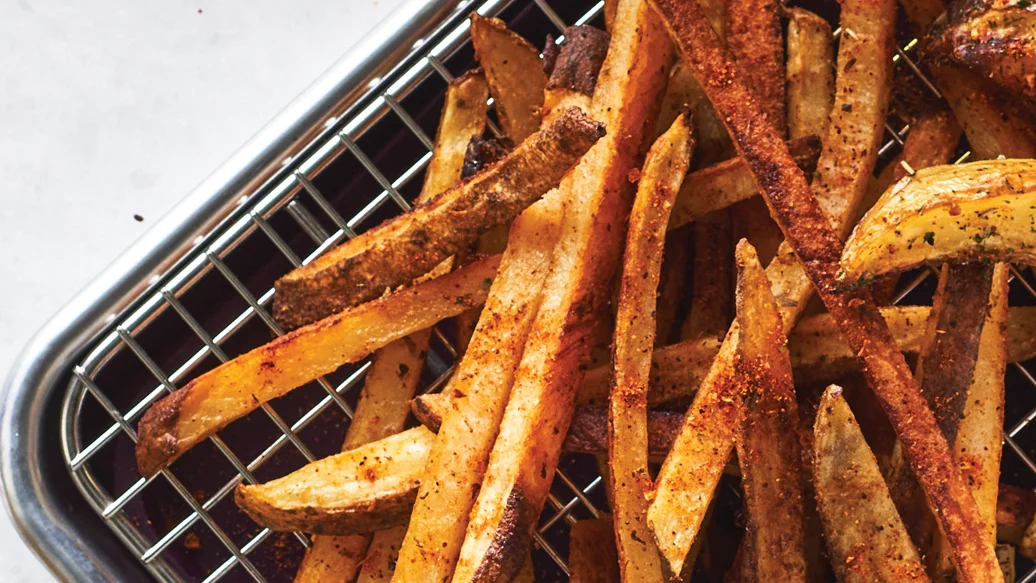 25 min
4 servings
$0.77/serving
 Pair with Chipotle Aioli, Poco Picante Salsa and your favourite Epicure Dip.
Preparation
Preheat oven to 425° F. Line Sheet Pan with a Sheet Pan Liner. Place two Cooling Racks on pan. Lightly brush racks with a little oil.
Cut unpeeled potatoes lengthwise into 1⁄4" thick slices. Cut each slice into thin, fry-shaped sticks.
Place in Multipurpose Steamer, cover; microwave on high 2–3 min, until a knife can just pierce the flesh.
Uncover, drizzle with remaining oil; sprinkle with seasoning and salt, if desired, then toss to evenly coat.
Spread out on racks. Try not to crowd—be sure they have a bit of space in between each other.
Roast for 18 min or until tender. Serve with toppings, if desired.
Nutritional Information
Per serving: Calories 210, Fat 7 g (Saturated 1 g, Trans 0 g), Cholesterol 0 mg, Sodium 20 mg, Carbohydrate 34 g (Fibre 3 g, Sugars 1 g), Protein 4 g.
Tips
For extra crispy fries, place cut potatoes in a large bowl and cover with cold water. Allow to soak at least 30 min or overnight. This removes excess starch which helps the potatoes crisp during cooking. Drain, rinse, and pat dry with a kitchen towel before using.
Use the Silicone Sponges to scrub dirt from potatoes before cooking.