Instant Pot™ General Tao Pot Roast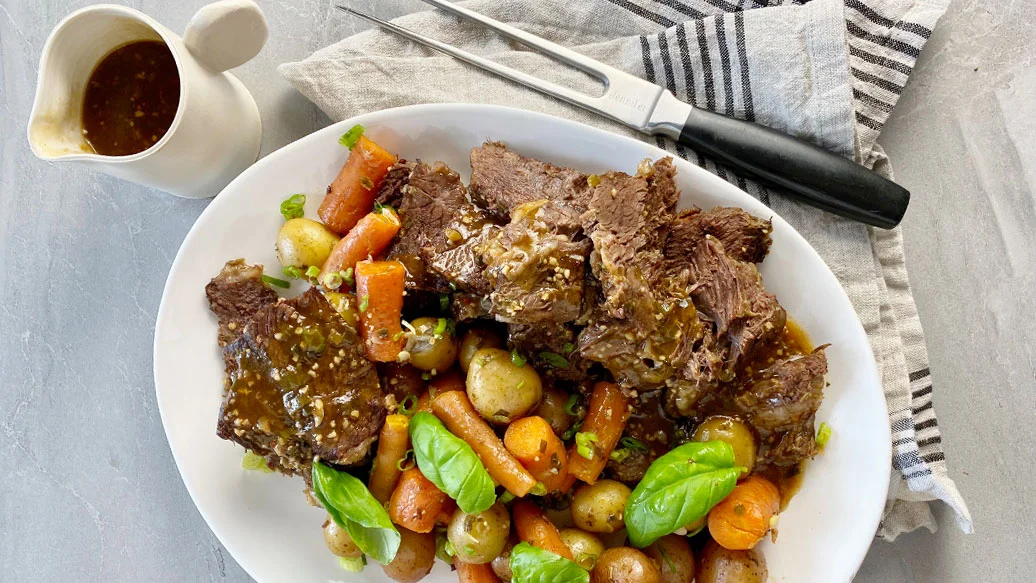 60 min
12 servings
$3.36/serving
This family-style meal is a budget saver. Make it in the Instant Pot™…and you'll save time too! A classic pot roast dinner can slow simmer in the oven for up to 4 hours. Plug in the Instant Pot™ and you'll have dinner on the table in an hour while saving on electricity too!
Perfectly Balance Your Plate
Serve with 2 cups leafy green salad with 1 tbsp Epicure dressing.
Ingredients
2 1⁄2 cups Beef Broth or broth of your choice, prepared
1⁄4 cup ketchup
1⁄4 cup soy sauce, preferably less sodium
4 lbs (1.8 kg) beef pot roast
6 carrots
1 large red onion
2 lbs (1 kg) whole baby potatoes
1 tbsp cornstarch
1 tbsp water
Toppings (optional): soy sauce, fresh basil leaves or sliced green onions
Preparation
In a large measuring cup, combine broth with seasoning, ketchup and soy. Set aside.
Cut roast in smaller chunks, about 6–8 pieces in total. Place in an 8 Quart Instant Pot™. Cut carrots into large pieces. Slice onion into skinny wedges. Arrange carrots, onion and potatoes overtop meat.
Pour in reserved broth mixture. Secure lid; press "MANUAL" button, select "HIGH", and set the time to 30 min. Ensure the steam release handle is in the "SEALING" position. This will take some time to get up to temperature before the timer starts to count down.
When the cook time has finished, turn to "KEEP WARM" and let pressure release naturally for 10 min.
Press "CANCEL"; using a long handled spoon, push the steam release handle to "VENTING" position and allow any remaining steam to release before opening the lid.
Using a slotted spoon, scoop carrots and potatoes into a serving bowl; cover to keep warm. Place meat on a cutting board; cover to keep warm.
For the sauce, mix cornstarch with water; stir into juices and turn the Instant Pot™ to "SAUTÉ". Whisk constantly until saucy and thick. Taste; season with more soy sauce, if desired.
While sauce is thickening, slice or pull beef into small serving pieces. Place on a platter.  Spoon sauce over top or serve on the side. Top with basil or onions, if desired.
Nutritional Information
Per serving: Calories 330, Fat 12 g (Saturated 4.5 g, Trans 0 g), Cholesterol 85 mg, Sodium 410 mg, Carbohydrate 23 g (Fibre 3 g, Sugars 5 g), Protein 34 g.
Tips
Swap out half or all the ketchup for spicy sriracha sauce.
Have more time? Use the SAUTÉ function to brown the meat and onion before adding the broth mixture and remaining ingredients.