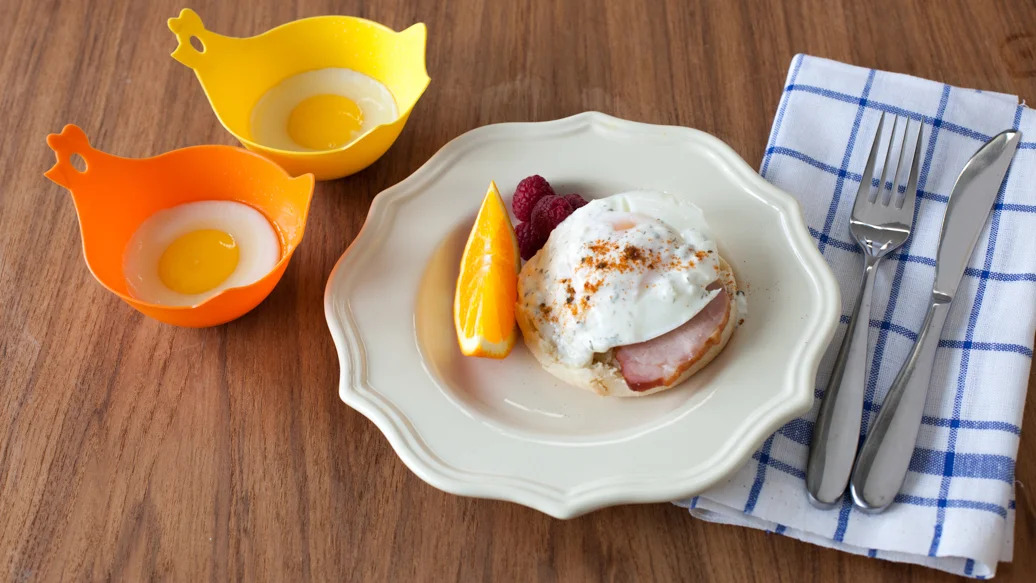 16 min
4 servings
$1.35/serving
These Bennies are also delicious with smoked salmon instead of bacon.
Ingredients
juice of 1 lemon
1⁄4 cup light sour cream or low-fat plain yogurt
1 1⁄2 tsp olive oil
1 1⁄2 tsp warm water
Sea Salt
4 eggs
4 slices Canadian back bacon
2 English muffins
Preparation
Squeeze 1⁄2 tsp lemon juice into a medium-size bowl. Whisk in next 7 ingredients. Add more lemon juice, if needed.
If making ahead, make to this point, then cover and refrigerate for up to 2 days. Bring sauce to room temperature before using.
Lightly oil Hen & Chick Egg Poachers. Place Poacher in a frying pan with about 2" water and bring to a boil. Reduce to a simmer, crack eggs into the Poacher, and float in water. Cover pan with lid and simmer for 3–5 minutes, until desired firmness.
Meanwhile, heat bacon in microwave until warm.
To serve, place English muffins (open) on plates and top with bacon slices. Using a spoon, remove Poacher from water. Run spoon around the egg to unmold, and place egg on bacon slices. Spoon sauce over eggs and serve.
Nutritional Information
Per serving: Calories 230, Fat 11 g (Saturated 3 g, Trans 0 g), Cholesterol 265 mg, Sodium 580 mg, Carbohydrate 18 g (Fibre 3 g, Sugars 4 g), Protein 16 g.