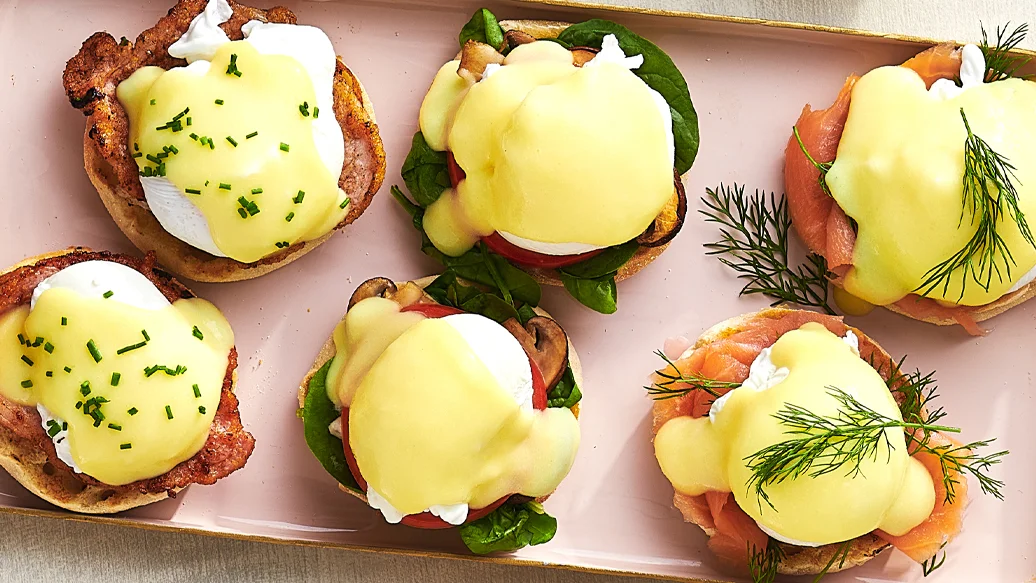 20 min
4 servings
$1.35/serving
No brunch reso? No problem! Build your own bennies, smothered in the perfect, no-fail Hollandaise Sauce. They can be made in the microwave or on the stovetop—even the kiddos can help!
Perfectly Balance Your Plate
Serve with 1 cup fresh fruit.
Ingredients
1 tsp white vinegar
8 eggs
4 English muffins, split and toasted
Preparation
Fill a medium saucepan until it's 2⁄3 full of water. Add vinegar; bring to a boil over high heat.
Reduce heat; simmer. Using a spoon or spatula, create a whirlpool by stirring the water in one direction. In a Prep Bowl, crack one egg. Gently slip the egg into the centre of the whirlpool. Repeat with three more eggs. Cook until egg whites are set and yolk is done to your liking, about 4 min for a soft poach. Using a slotted spoon, remove from water and drain on a paper or kitchen towel. Repeat process with remaining four eggs.
Place two English muffin halves on each plate. Place one egg on each muffin half. Drizzle 1 tbsp sauce over each egg.
Nutritional Information
Per serving (2 egg-topped muffin halves): Calories 360, Fat 19 g (Saturated 8 g, Trans 0.3 g), Cholesterol 390 mg, Sodium 450 mg, Carbohydrate 30 g (Fibre 4 g, Sugars 7 g), Protein 19 g.
Tips
Swap out English muffins and use Baked Bagels or Quick Biscuits as the base.
Make it your way! Try these delicious combinations:
Classic: Easy Eggs Benedict + peameal bacon or ham.
West Coast: Easy Eggs Benedict + smoked or cooked salmon + fresh chopped dill.
Veg Out: Easy Eggs Benedict + sliced tomatoes + spinach + sautéed mushrooms.
Feeding a crowd? Poach eggs using the Muffin Maker. Preheat oven to 350° F. Place two Muffin Maker trays on two separate Sheet Pans. Fill each well with about 1 tbsp water; crack 1 egg into each well. Bake, rotating halfway through, until whites are set and yolks are still a little jiggly, about 20 min. Remove from oven and let stand 1–2 min to finish setting. Using a spoon, gently loosen eggs and remove from wells, tilting to drain excess water.