Easy Bibimbap-Inspired Bowl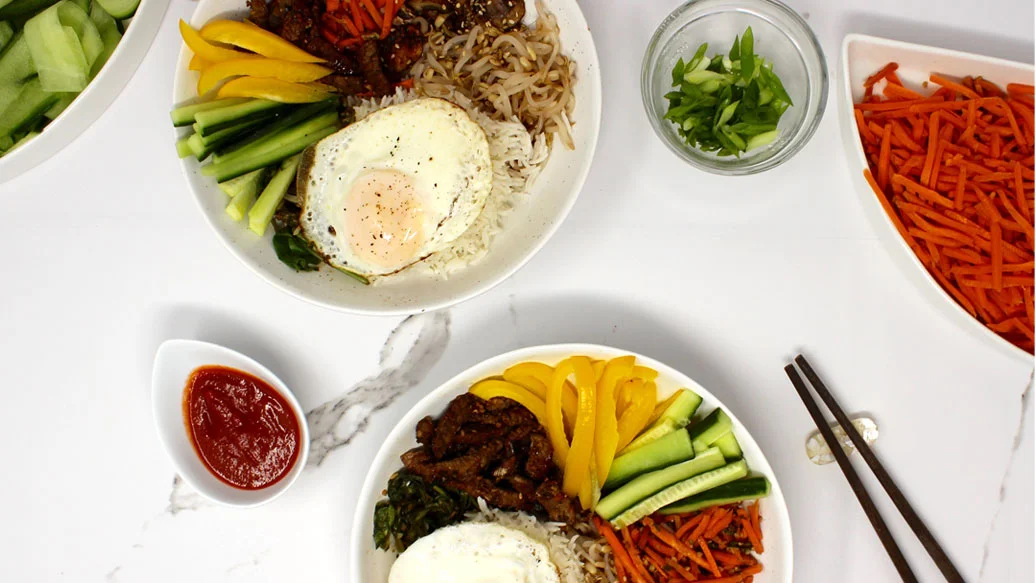 28 min
4 servings
$3.62/serving
These bowls are delicious, but they can be time-consuming to prepare. We've taken a few shortcuts so you can enjoy them quickly any night of the week.
Ingredients
1 cup rice
2 cups water
Sauce
1⁄4 cup water
2 tsp low-sodium soy sauce
1 tbsp rice wine
1 tbsp sesame oil
225 g lean beef, cut into strips, or ground soy round
2 cups spinach
2 cups matchstick carrots
2 cups cucumber, sliced into ribbons
2 cups canned bean sprouts, drained and rinsed
2 cups mushrooms, sliced
4 eggs
4 green onions, sliced on the diagonal
Sea Salt, to taste
Black Pepper, to taste
hot sauce, optional
Preparation
In a Multipurpose or Round Steamer, add rice and water; cook on high for approximately 8–10 min, until rice is cooked.
While rice is cooking, combine sauce ingredients in a bowl and prep veggies.
In a Fry Pan or Wok, stir-fry beef with 2–3 tbsp of sauce until cooked, approximately 5–7 min. Place meat in bowl and set aside.
In the same pan, stir-fry carrots with 1 tbsp of sauce, approximately 2–3 min. Place in bowl and set aside.
Stir-fry spinach on 1 side of the same pan and the mushrooms on the other side of the pan, approximately 2–3 min. Place each in bowl and set aside.
Wipe out pan with paper towel. Fry eggs to desired consistency, 4–5 min.
Assemble bowls by dividing rice into 4 serving bowls. Add beef and veggies; top each bowl with cooked egg, and Sea Salt and Black Pepper, if desired.
Serve with green onion slices and hot sauce, if desired. Enjoy!
Nutritional Information
Per serving: Calories 470, Fat 15 g (Saturated 4.5 g, Trans 0 g), Cholesterol 225 mg, Sodium 260 mg, Carbohydrate 57 g (Fibre 3 g, Sugars 5 g), Protein 27 g.