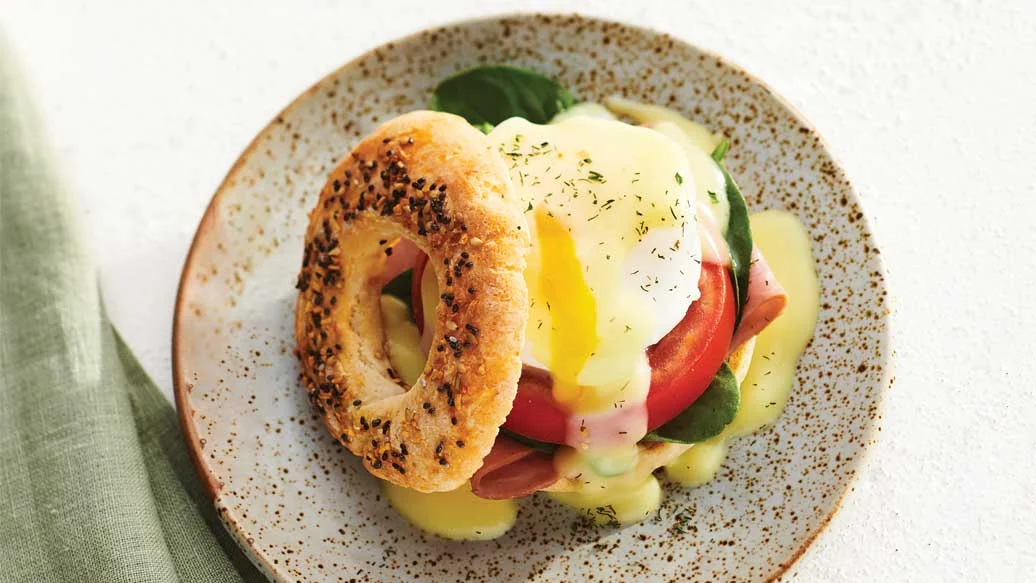 20 min
6 servings
$3.80/serving
The kind of breakfast sandwich you eat with a knife and fork. These are one-egg bennies—for a hungrier crowd, use two. The foolproof sauce can be made in the microwave or stovetop. It makes about 1 1⁄2 cups of sauce.  
Perfectly Balance Your Plate
This is a perfectly balanced plate.
Ingredients
4 cups water, divided
6 eggs
1⁄2 cup unsalted butter
1 pkg Hollandaise Sauce Mix
2 tomatoes
6 small bagels, split & toasted
6 slices (1 oz/28 g each) of low-sodium turkey or ham
3 cups baby spinach
Toppings (optional): Lemon Dilly Dip Mix 
Preparation
Fill six Prep Bowls with 1⁄2 cup cold water each. Crack one egg into each bowl. Partially cover each bowl with lid. If your microwave is equipped with a turntable, place bowls on the edge of the turntable; avoid crowding the middle for even cooking. Microwave until yolk is set to your liking, about 3 min for a medium poach or jammy yolk. Carefully remove bowls from microwave. Using a spoon, place eggs on a plate lined with paper towel or kitchen towel.  
In a 4-Cup Prep Bowl, melt butter, uncovered, on high, 40–60 sec. Whisk in sauce mix and 1 cup water until well combined. Microwave, uncovered, on high for 2 1⁄2 min, stirring halfway through. 
To serve, thickly slice tomatoes. Place bagels on plates. Divide tomatoes, turkey, and spinach on bottom halves of bagels. Place one egg on each bagel half. Drizzle at least 2 tbsp sauce over top. Sprinkle with pinches dip mix, if desired, and cover with top halves of bagels.  
Nutritional Information
Per serving (with 2 tbsp sauce): Calories 340, Fat 15 g (Saturated 7 g, Trans 0.2 g), Cholesterol 285 mg, Sodium 720 mg, Carbohydrate 34 g (Fibre 3 g, Sugars 6 g), Protein 20 g.
Tips
Feeding a crowd? Poach eggs using the Muffin Maker. It's hands off, the eggs are ready at the same time, and it frees up the stovetop. Preheat oven to 350° F. Place two Muffin Maker trays on two separate Sheet Pans. Fill each well with about 1 tbsp water; crack 1 egg into each well. Bake, rotating halfway through, until whites are set and yolks are still a little jiggly, about 20 min. Remove from oven and let stand 1–2 min to finish setting. Using a spoon, gently loosen eggs and remove from wells, tilting to drain excess water.
Have extra time? Have some fun with DIY bagels and make Perfectly Portioned Bagels topped with Everything Bagel Topper.  
This breakfast is a bit higher in sodium, something to be mindful about as you plan the rest of your meals for the day.